HUFT Wintersong Essentials Dog Jacket - Red
Eco-friendly, water resistant & easy to wear
Regular price
MRP :
₹779.40
₹1,299.00
Regular price
MRP :
₹1,299.00
Sale price
₹779.40
40% Off
Unit price
per
Earn
Login to check your rewards. Click here
Your mobile number is not registered with HUFT Rewards. Register Now
Get Flat INR 150 Off On All Orders above INR 1999. Use Code: HUFTLOVE

T&C
This purchase will Feed A Dog In Need
Claim Your Offer
Get Happi Doggy (At 70% Off) on All Orders Above 999
Delivery & Services
Expected delivery date -
Available for Pickup at
Locate Store: Google Map
Product Description
Keep your pet snug until spring with the HUFT Wintersong Black Dog jacket. Specially designed to be comfortable for dogs, it has a soft cotton flannel lining that's gentle on their fur and skin. This jacket is quilted with Eco-Friendly (filled with fibre made with recycled PET bottles) for warmth and has Velcro fastening for ease-of-wear. Waterproof outer fabric adds to its functionality.

Features:
Product Type: Winter Jacket for dogs
Soft cotton flannel lining
Eco-Friendly Stuffing (filled with fibre made with recycled PET bottles inside for extra bounce and comfort)
Velcro fastening

Waterproof outer fabric
Available in different size and colour variants
To be worn under pet parent supervision
Winter wear should be removed during exercise or outdoor play
Please buy size appropriate clothes and accessories for your pet
Size chart:
Size
Length 
(cm)
Neck 
(cm)
Girth 
(cm)
Length 
(inch)
Girth 
(inch)
Neck 
(inch)
Breed
L
44.5
46.0
58.0
17.4
22.6
17.9
Shih Tzu, Pug, Lhasa Apso
XL
47.0
48.0
63.0
18.3
24.6
18.7
Beagle, Lhasa Apso (Depending on the built), Frenchie
2XL
52.0
51.0
66.0
20.3
25.7
19.9
American Cocker Spaniel, Indie, English Bull Dog
3XL
66.0
58.0
76.0
25.7
29.6
22.6
English Cocker Spaniel, Indie (Depending on the built)
4XL
72.5
61.0
86.0
28.3
33.5
23.8
labrador, Golden Retriever, German Shepherd
5XL
78.5
61.0
106.0
30.6
41.3
23.8
Rottweiler, Heavy Built Lab/Golden Retriever
HUFT Tip: Senior pets tend to feel the cold more than young adults so keep an eye out for signs that your golden oldie needs some extra warmth. Besides slipping a sweater or a jacket on your pet, you could also create a warmer snooze spot by adding a blanket to his/her bed. Warm meals will also be appreciated.
Additional Info
Product Name: HUFT Wintersong Essentials Dog Jacket - Red
Product Type: Jacket
Net Weight/Net Quantity/Net Volume: 1
Packed and Marketed by: Barkyard Private Limited,G.F, Khasra No. 15/1/1, PCL Industrial Solutions, Sector 78, Naurangpur, Gurugram-122051, India
Country of Origin: India
MRP:

₹1,299.00

(Inclusive of all taxes)
Disclaimer :
All images are for representation purposes only. You are advised to read the batch & manufacturing details.
View full details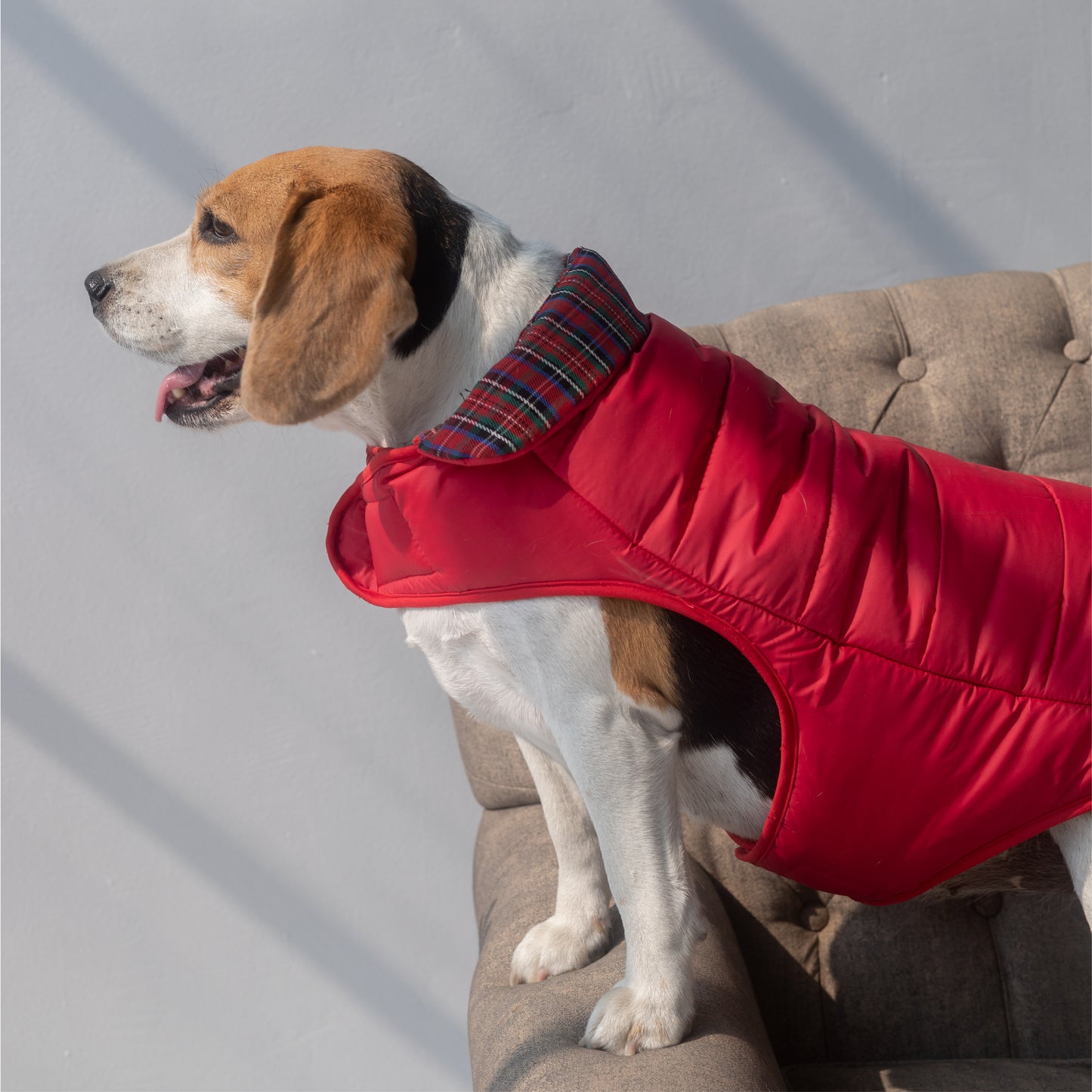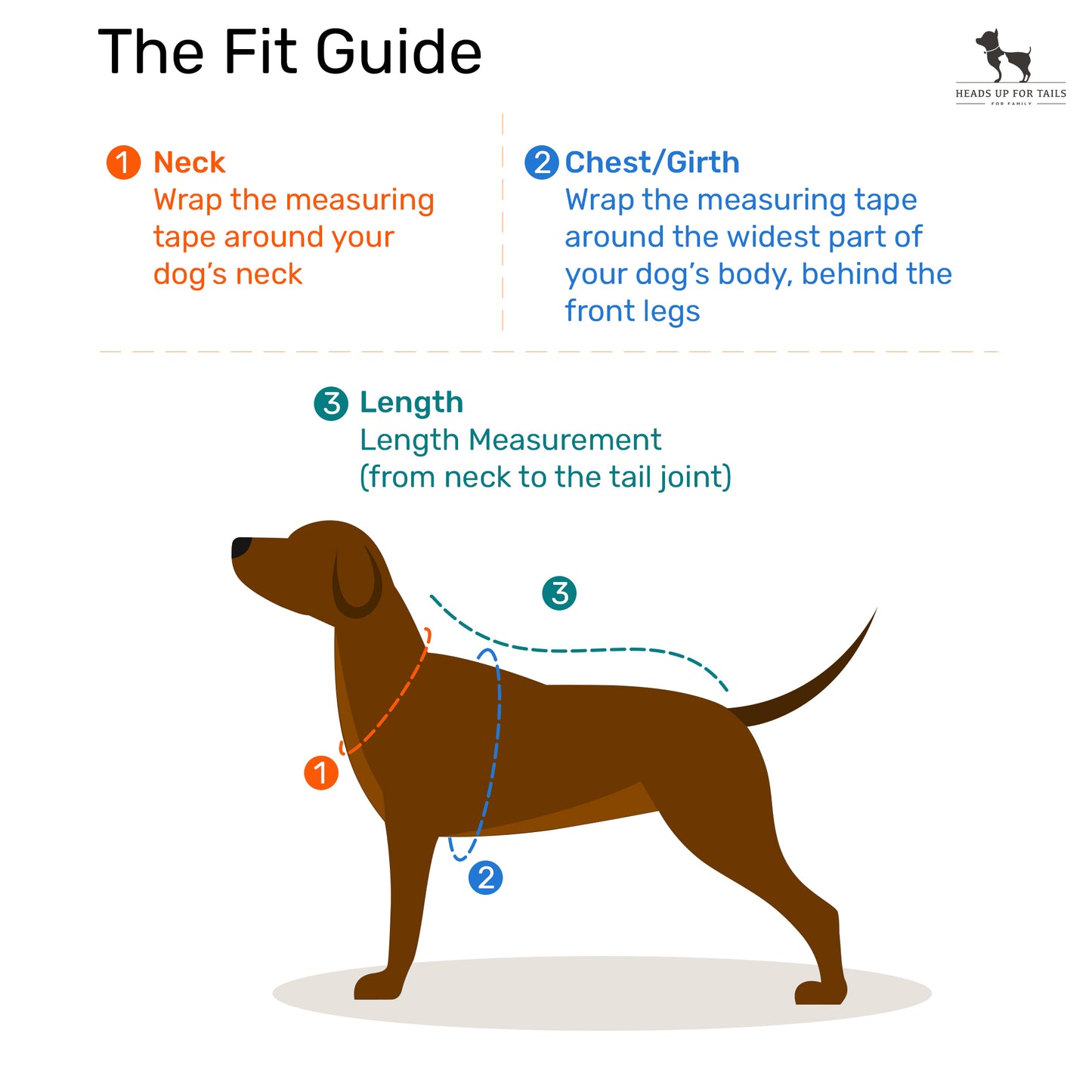 This product is really good and fits really well on my Lab..
For my love
I love my pet 💕 deep from my heart he(Caesar)is not my pet he is my son part of my family and for him I always choose best one like heads up for my tails beautiful products for beautiful souls. 😍
Met our Expectations
Very good product and timely delivery
HUFT Wintersong Essentials Dog Jacket - Red
Excellent overall service