Schesir 51% Tuna with Aloe Wet Food For Kittens - 85 g
Natural, steamed, preservative-free & eco-friendly
Regular price
MRP :
₹169.00
₹169.00
Regular price
MRP :
Sale price
₹169.00
Unit price
per
Login to check exact points.
Your mobile number is not registered with HUFT Rewards. Register Now
This purchase will Feed A Dog In Need 🐕
Expected delivery date -
Available for Pickup at
Locate Store: Google Map
Get Your Freebie Now!
Get Schesir Can (INR 169) Free on All Orders Above 1999
More Natural Wet Cat Food From Schesir
View full details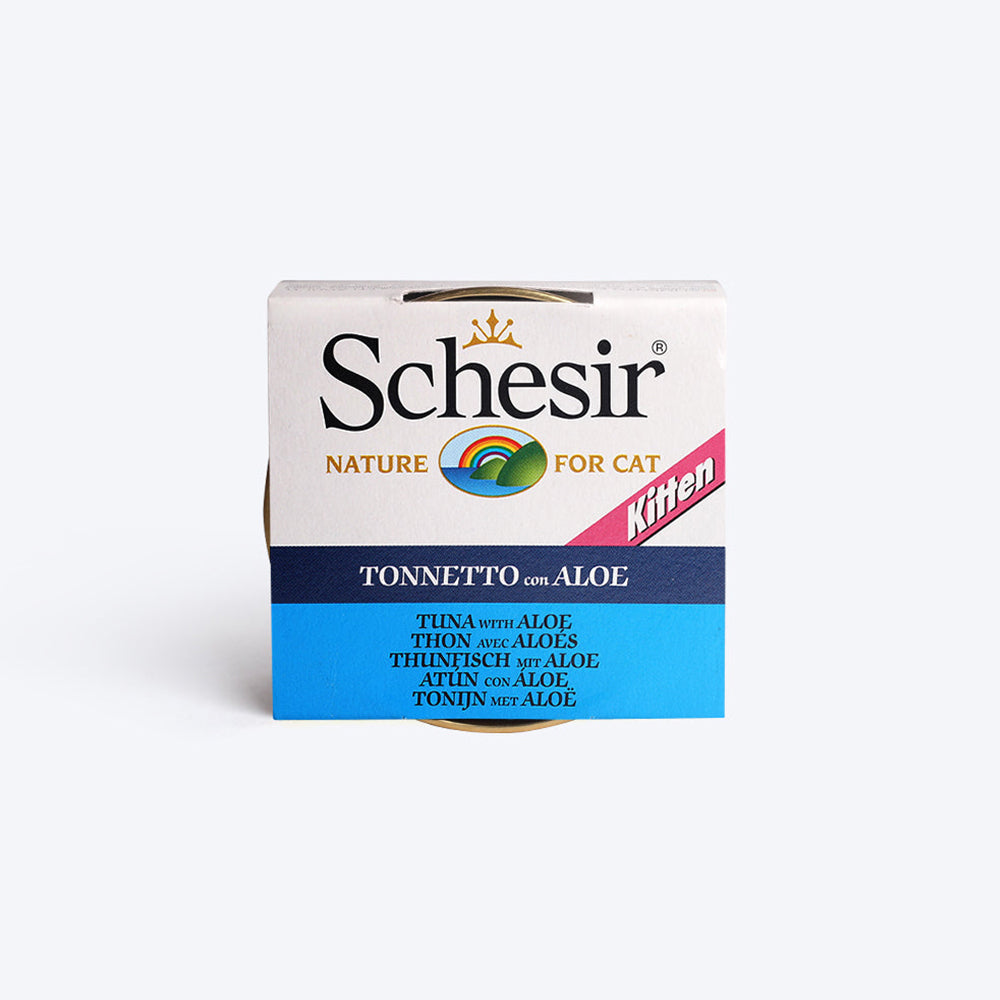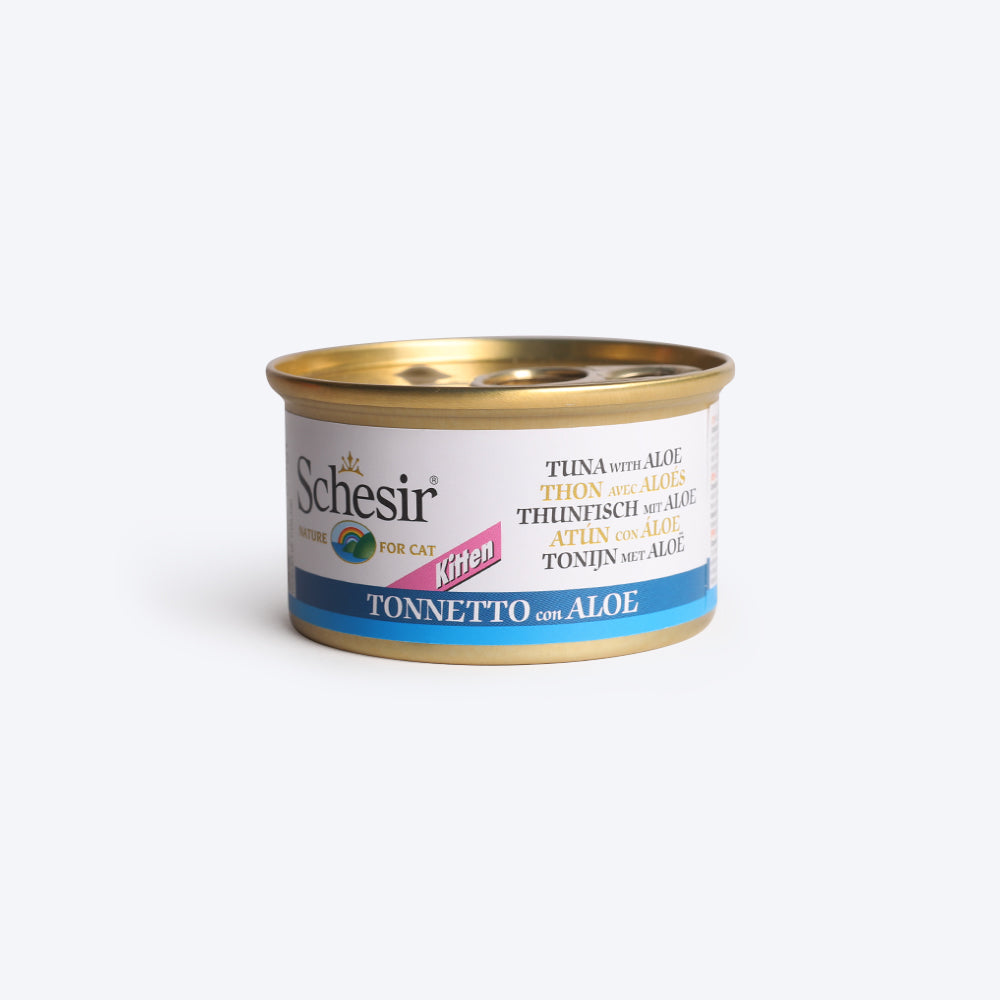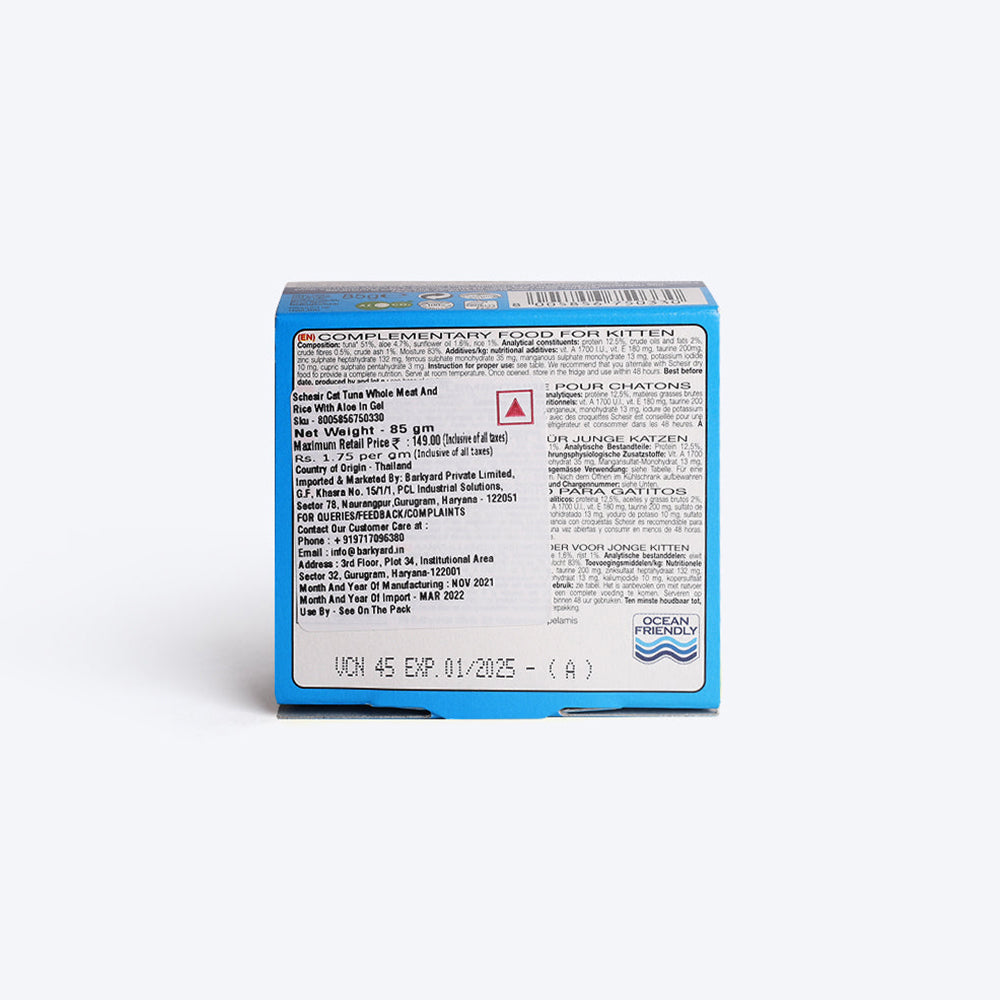 Frequently Bought Together
Schesir Tuna with Aloe Canned Cat Food is a unique cat food not found anywhere else. This carefully crafted formula uses the benefits of aloe to give your cat a nutritional boost. Aloe is rich in natural antioxidants, essential enzymes, and other nutrients. This formula also includes eco-friendly tuna that is lightly steamed. Schesir Tuna with Aloe Canned Cat Food is a complete and balanced diet for cats of all ages. This interesting flavour is nutrient dense, and has everything your cat needs to thrive. It is a tasty option for cats of all ages. Schesir foods are free from artificial colours or preservatives.
Features:
Nutrient dense, containing everything your cat needs to thrive
A fishy flavour that cats love
A complete diet for all ages of cats
Uses the power of aloe to give your cat a nutrition boost
Free from artificial colours or preservatives
Composition:
Tuna 51%.
Aloe 4.7%.
Sunflower oil 1.6%.
Rice 1%
Analytic components:
Protein 11%
Crude oils and fats 1.5%
Crude fibers 0.5%
Crude ash 1%
Moisture 85%
86.4 kcal/100 g
Ingredients:
Tuna: 
The used species are only two: the Euthynnus affinis (called Bonito) and the Katsuwonus pelamis (called Skipjack): these are species not over-exploited. They are caught in the open sea with sustainable methods that guarantee the protection of dolphins and endangered species (Ocean friendly).
Aloe: 
Succulent plant Aloe barbadensis Miller, from the Aloeaceae family. It comes from local crops to reduce the impact of transport on the production process. It is a perennial shrub of which the fleshy leaves are used. It is a topping in Schesir wet products to give more flavor to the recipe and as a source of fiber.
Kitten loves this!
We have been using Schesir wet kitten food and my kitten absolutely loves this.
Delivery from HUFT is fast and reliable,
Best complimentary food for kitten
Both my kids enjoyed it very much
Whole food
I have been feeding my kitten schesir tuna for a while.She just loves it. It has real tuna with a good composition.It is combined with aloe, sunflower oil
few grains of rice and nutritional additives.If you are looking for good quality food for cats,then go for it. Although it is pricey,it is definitely worth the quality of the food. You can also try schesir tuna pouch which is equally good.
Wet food
Quick delivery …. And perfect packaging
Product Name: Schesir 51% Tuna with Aloe Wet Food For Kittens - 85 g
Product Type: Wet Food
Net Weight/Net Quantity/Net Volume:

1 x 85 g

Imported & Marketed by: Barkyard Private Limited,G.F, Khasra No. 15/1/1, PCL Industrial Solutions, Sector 78, Naurangpur, Gurugram-122051, India
Country of Origin: Thailand
MRP:

₹169.00

(Inclusive of all taxes)
Disclaimer :

All images are for representation purposes only. You are advised to read the batch & manufacturing details.