Whiskas Adult (1+ year) Tasty Mix Wet Cat Food Made With Real Fish, Chicken With Salmon Wakame Seaweed in Gravy - 70 gm packs
Regular price
MRP :
₹50.00
₹50.00
Regular price
MRP :
Sale price
₹50.00
Unit price
per
Login to check exact points.
Your mobile number is not registered with HUFT Rewards. Register Now
This purchase will Feed A Dog In Need 🐕
Expected delivery date -
Available for Pickup at
Locate Store: Google Map
Get Your Freebie Now!
Get Schesir Can (INR 169) Free on All Orders Above 1999
Natural Wet Cat Food From Schesir
View full details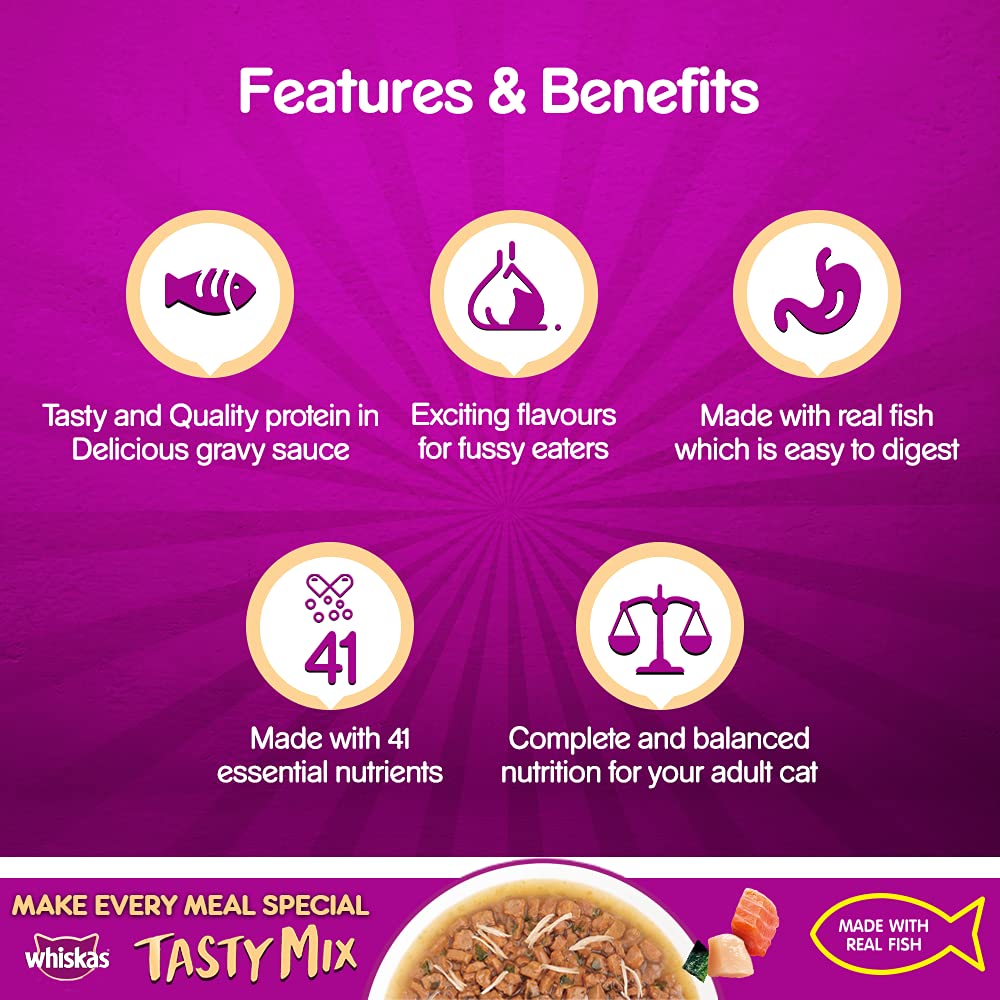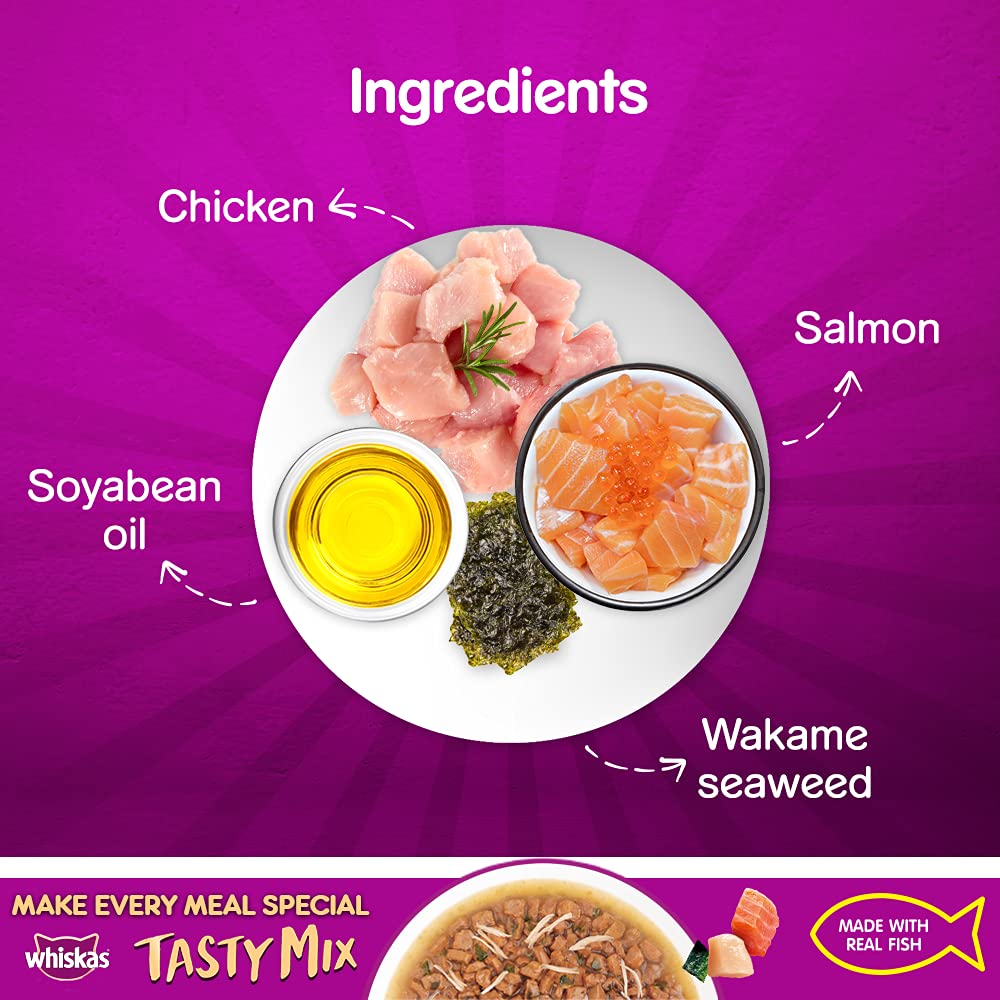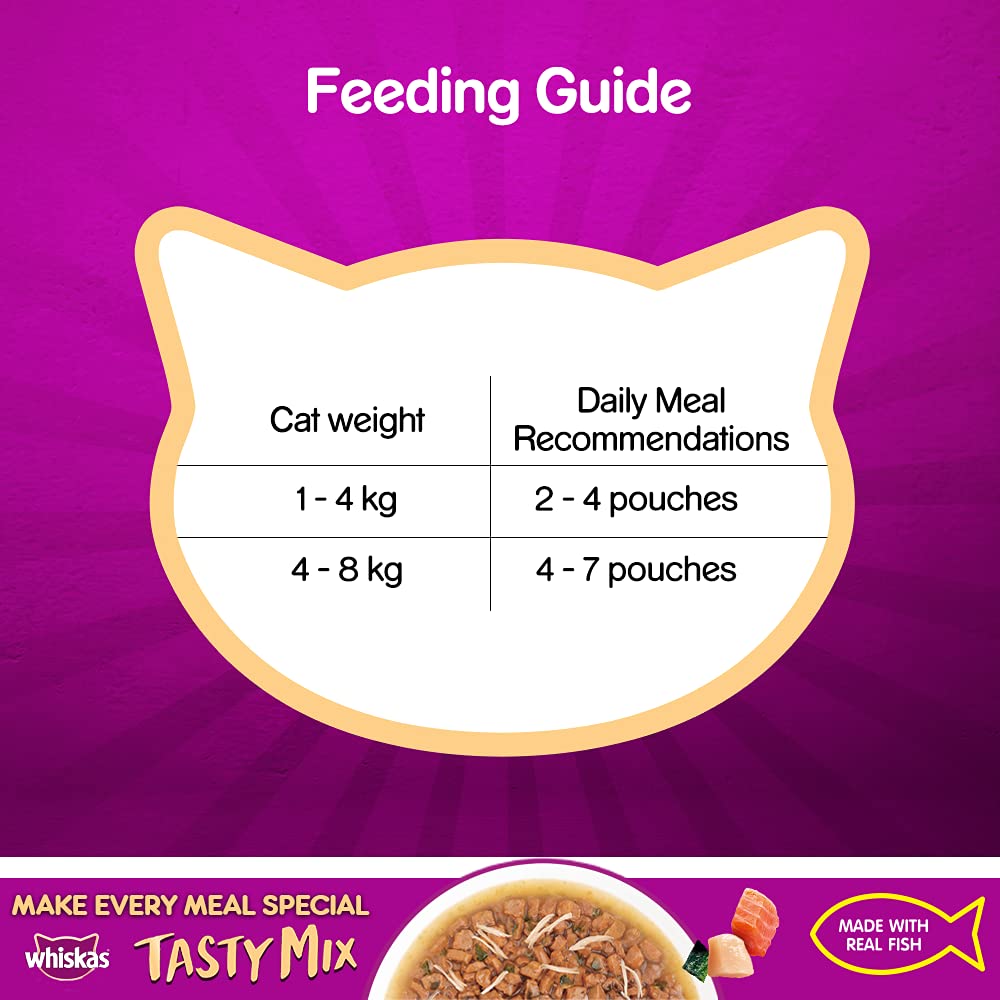 Frequently Bought Together
Whiskas Adult (1+ year) Tasty Mix Wet Cat Food Made With Real Fish, Chicken With Salmon Wakame Seaweed in Gravy.

Features:
Made With Real Fish: Whiskas Tasty Mix contains real fish which is easy to eat, ideal to be given to cat.
New Pouches: Offers varieties in all the favourite protein flavours that your cat will love
Tempting Flavour: Cat Food made with Chicken and veggies like Salmon Wakame Seaweed in gravy to attract fussy eaters
Varieties Of Ingredients: Give your cat tasty and quality protein, together with nutrition from colourful vegetables in delicious gravy sauce that they will lick clean
Also Try:
Try Whiskas Adult Tasty Mix Seafood Cocktail with Seaweeds in Gravy, Tuna & Kanikama with Carrots in Gravy and Chicken &Tuna with Carrots in Gravy
Complete & Balanced:
Whiskas Tasty Mix is a complete and balanced nutrition for your adult
Whiskas Tasty Mix makes my cats go crazy. Absolutely satisfied.
♡☆☆☆☆☆♡
I finished it and left my plate squeaky clean!!! Momma was very happy. 10/10. recommended.
(T~T )/
The packets were in good condition, it was on great discount.
Whiskas Adult (1+ year) Tasty Mix Wet Cat Food Made With Real Fish, Chicken With Salmon Wakame Seaweed in Gravy - 70 gm packs