HUFT YIMT Apple and Cinnamon Vegetarian Dog Biscuits
Availability: Many in stock
Vendor: Heads Up For Tails
DELIVERY OPTIONS
PRODUCT INFORMATION
CUSTOMER REVIEWS
PRODUCT INFORMATION
The Heads Up For Tails Yummy In My Tummy® biscuits makes treat time both nutritious and delicious. Your dog will love the natural taste of Yummy In My Tummy Apple & Cinnamon dog cookies. Containing real vegetables and fruits, these healthy treats are made of human-grade ingredients and are free of added sugar and artificial flavours.Apple is a good source of fibre, vitamin A and vitamin C. They come in 4 chicken and 4 vegetable flavours, out of which 2 are suitable for our gluten allergic friends.
Features:


Product Type: Vegetarian cookies for dogs
Suitable for all dogs
Made from rice and chickpea flour
Human Grade Ingredients
Made with real fruit
No added sugars or artificial flavours
Treats should always be given in moderation
Always have fresh water available for your pet
Never feed above recommended quantities unless prescribed by a vet
Always check the ingredient label for possible allergens
These biscuits are oven-baked
We use real ingredients so your doggie gets all their nutritional benefits
We use only Human Grade Ingredients
We have both vegetarian and non-vegetarian flavours
We don't include any artificial colours or sugar so they are safe for your dog
HUFT Tip: You should always make it a point to check the ingredient label for possible allergens.

Ingredients:
Whole wheat flour, rice flour, apple, oats, cinnamon, jaggery, honey, vegetable shortening, salt, leavening agent, emulsifier and permitted preservatives.
Why did we make Yummy In My Tummy®?
Treats always come in handy in a household with a dog. Treats are used for rewards, training or to play a game with your dog. We wanted to give pet parents a healthy, conveniently sized treat to suit all these purposes. We oven-bake these biscuits and use real veggies, fruit and meat to make them more nutritious.
 Yummy In My Tummy Biscuits has a lot more to offer. 
Click here
 to find out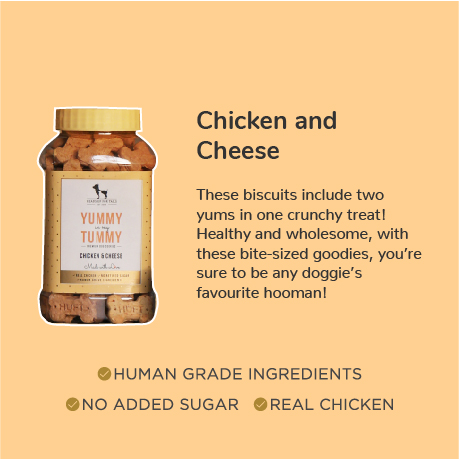 CUSTOMER REVIEWS
HUFT YIMT Apple and Cinnamon Vegetarian Dog Biscuits
My pets loved it
My 10 yr old pug loves it to bits
Loved it!
My pet loved the biscuits.
Yummy in the tummy
Hello my senior Springer loves them and tends to overeat then there are some consequences on his tummy. The size is lovely and they are lighter than other biscuits that are available.
It was disappointing that I could not avail of the offer on 3 with different flavours even though the cost factor is the same.
My Gullu loves these biscuits.🐶
HUFT YIMT Apple and Cinnamon Dog Biscuits